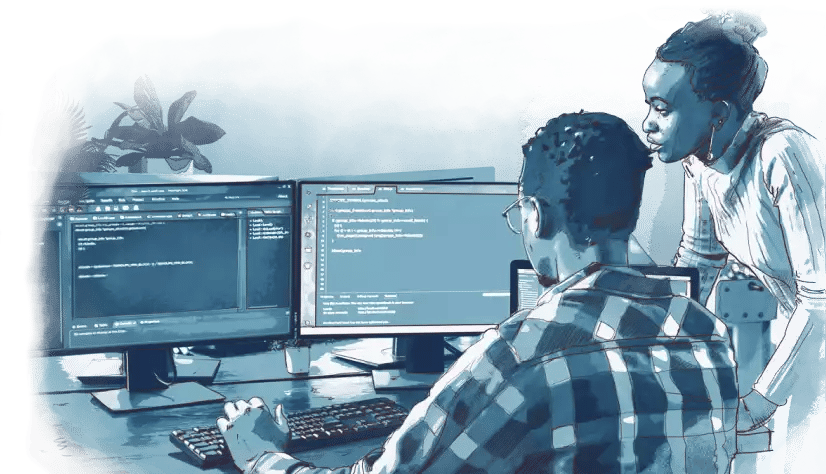 Penetration testing closes security gaps so you ace your audit.

No more guesswork
Pen testing isn't required for most security certifications, but it makes your audit prep a lot faster and easier. Strike Graph pen testers provide you with a prioritized list of recommendations so you can remedy vulnerabilities before your audit.

Get an outside perspective
It's hard to spot your own weaknesses. Strike Graph's team of certified experts have years of hands-on experience throughout the software development lifecycle and can spot weaknesses you might miss.

Strengthen your security year after year
Pen testing is a valuable tool you can employ year after year to ensure your controls and protocols are working. Strike Graph provides annual pen testing as part of your subscription so you can rest assured that your infrastructure is secure.
Here's how a pen test works
Secure your infrastructure in three
simple steps.
Step 1
Define your scope
You complete an engagement document to define the scope of the pen test and the "rules of engagement."
Step 2
We test your defenses
Strike Graph attacks vulnerabilities and known weak spots within your architecture and security posture.
Step 3
Get your results
Our team creates a detailed report with prioritized actionable recommendations. Once you've addressed your gaps, we retest to ensure your system is secure.
Protecting the world's leading brands










Conquer security. Streamline compliance.
Strike Graph's flexible platform empowers you to design a security program that fits your unique business needs so you can achieve your compliance goals quickly and get back to selling!
Dig into the details
Learn more about penetration testing and all the other ways we support our clients in their compliance journey
What happens during a pen test? Do I need to prepare?
During a pen test, an ethical hacker or pen tester will simulate an attack to enter your system. If successful they will attempt to gain access to the most sensitive information possible and determine how long it takes an internal security team to notice that they are in the network.
To prepare, you need to set the scope of the pen test and provide the pen tester with data about your system. After the pen test, findings will be shared with management and the IT team. Recommendations are prioritized so your team can focus on any critical findings as soon as possible.
How often should a pen test be performed?
A pen test should be performed at least annually or when one of the following occurs:
The addition of significant change to infrastructure or applications
The modification of end-user access policies (permissions or roles)
Some organizations with a fairly static environment and code base may only need to test every other year. However, there may be compliance or regulatory factors that require annual testing. Every Strike Graph customer receives an annual pen test as part of their subscription to ensure their security posture is rock solid.
Is a pen test the same as a vulnerability scan? Do I need both?
A pen test simulates an outsider or hacker gaining access to the organization's environment. The goal is to assess how security is managed within a system. Pen tests utilize a formally repeatable process to infiltrate, exploit and ultimately report on a target.
A vulnerability scan is a subset of pen test activities and is designed to test a network and related systems against a known set of common vulnerabilities. It is typical to run vulnerability scanning at a more frequent cadence than a pen test.
Both result in actionable items, however, a pen test will simulate a 'live' threat or attack, whereas vulnerability scans look at the weaknesses already in your system. A well-rounded security program will perform both types of tests.
Does my SOC 2 audit require a pen test?
Penetration testing is not a requirement for SOC 2 compliance. However, it is necessary to ensure that controls are in place to detect and prevent unauthorized access to systems, applications, and data. In addition to a pen test, you may also consider periodic vulnerability scans to address your unique IT risks as this can help further streamline your aduit.
Additional resources
Check out more helpful guides from the Strike Graph team!
Have questions about penetration testing? We'd love to help
Schedule a demo and one of our knowledgeable team members will be happy to walk you through Strike Graph's pen testing process.