Don't let SOC 2 compliance slow your momentum.
Cybersecurity requirements, like SOC 2 compliance, often catch companies off guard just as they're reaching a critical stage of expansion.
Traditional compliance
Traditional approaches require hundreds of hours of work and don't support cross-certification, leaving you back at square one when you're ready to level up again.
Strike Graph
That's where Strike Graph comes in. We take a holistic approach that prioritizes both speed and long-term benefits, so you achieve SOC 2 86% faster and are set up for future success. Strike Graph's platform makes SOC 2 compliance simple and fast.
Everything you need — nothing you don't
Forget one-size-fits-all compliance checklists. Strike Graph tailors the compliance process so you're only investing time and energy into SOC 2 controls that are necessary for your business. The result? Faster, easier SOC 2 compliance.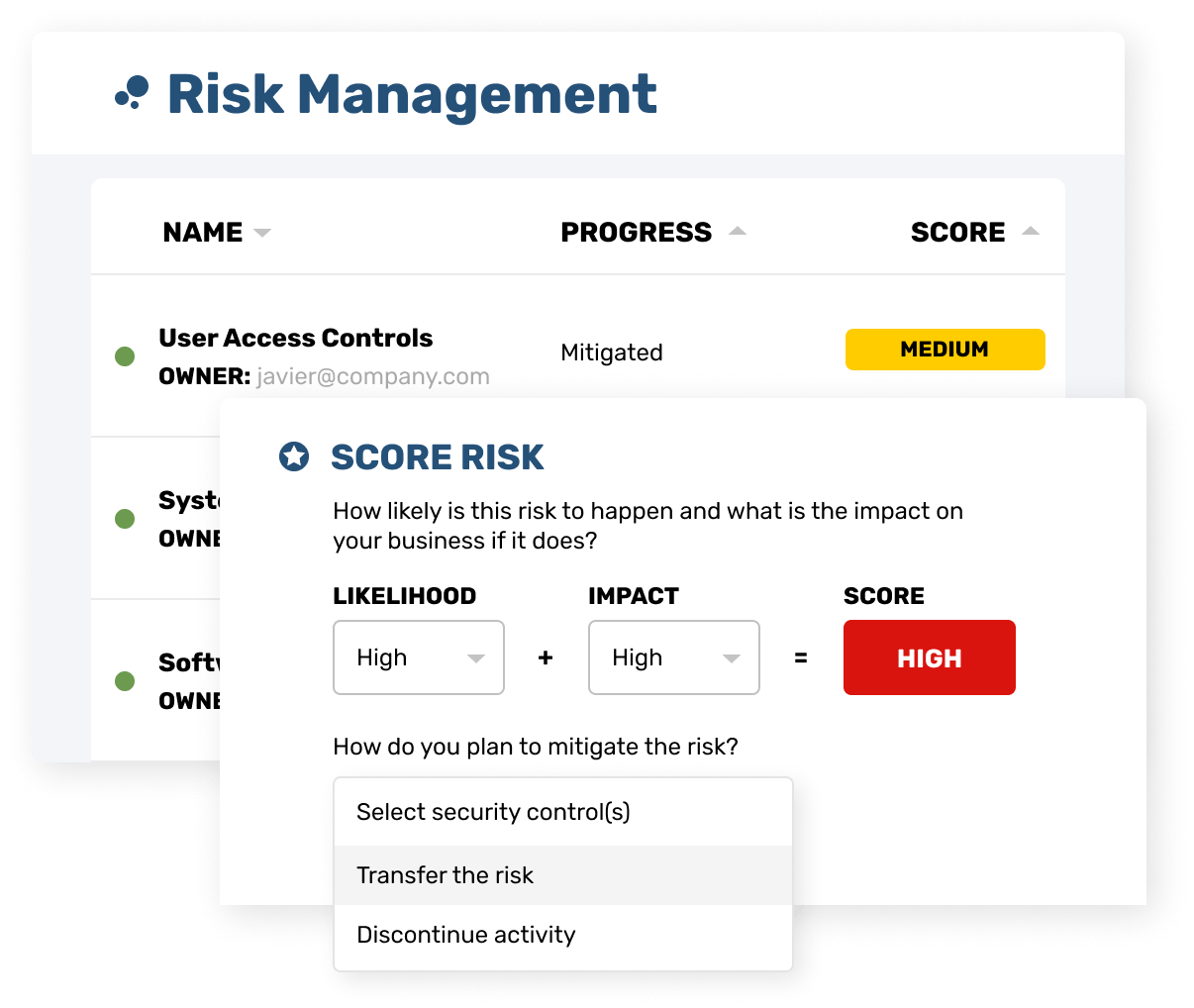 Automation to lessen the load
No one wants to waste time hounding colleagues for documentation. Strike Graph does that legwork for you. Our platform lets you automate SOC 2 evidence collection and maintenance reminders and assign responsibility to appropriate team members within your company.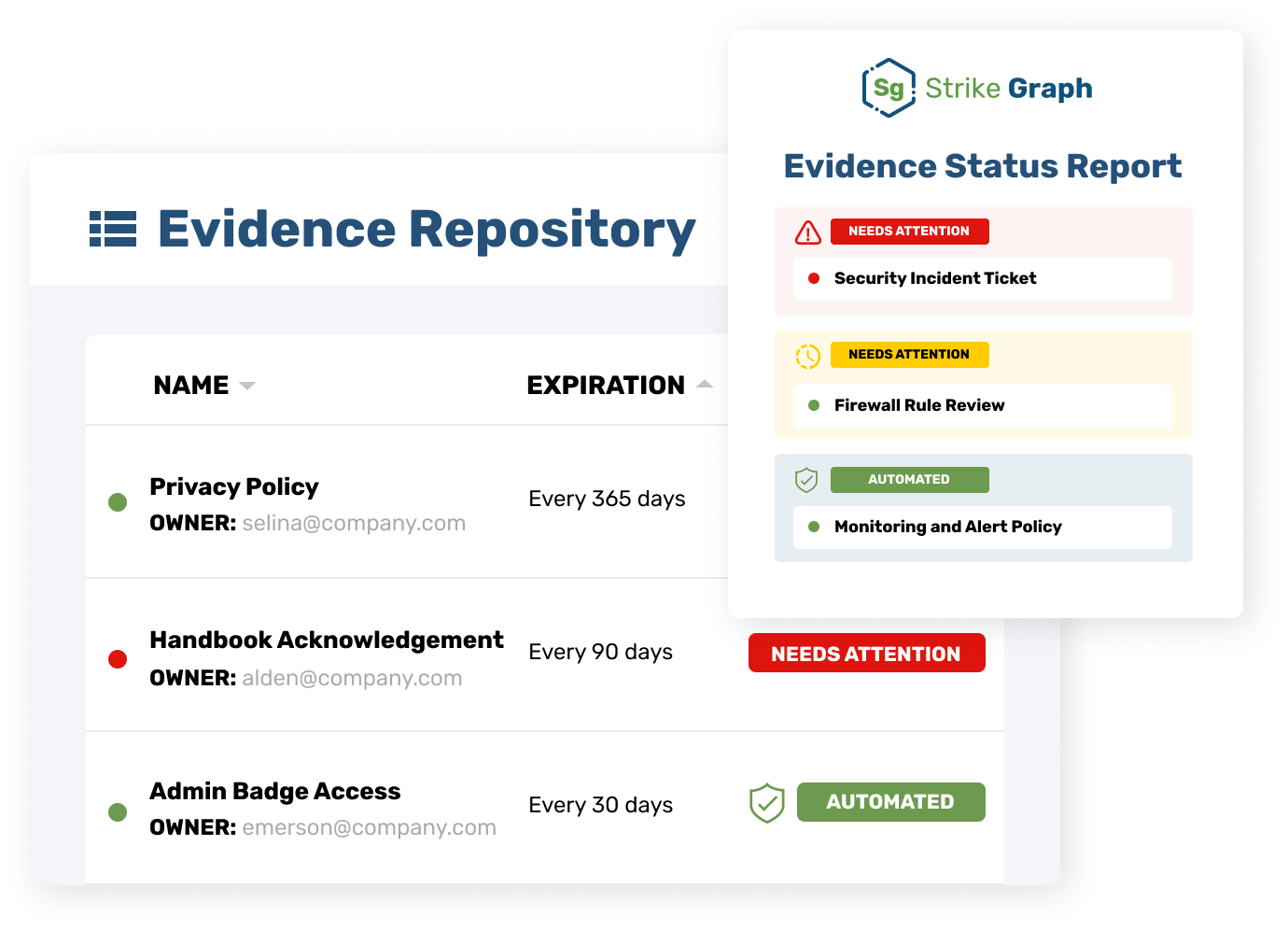 A strong foundation to build on
Traditional approaches to SOC 2 compliance are a 1:1 effort. You spend a lot of time and energy fulfilling requirements, you reach compliance, and that's it. With Strike Graph, the controls and evidence you produce as part of the SOC 2 process allow you to maintain compliance easily, and they can be cross-applied to future cybersecurity certifications. One investment produces ongoing returns.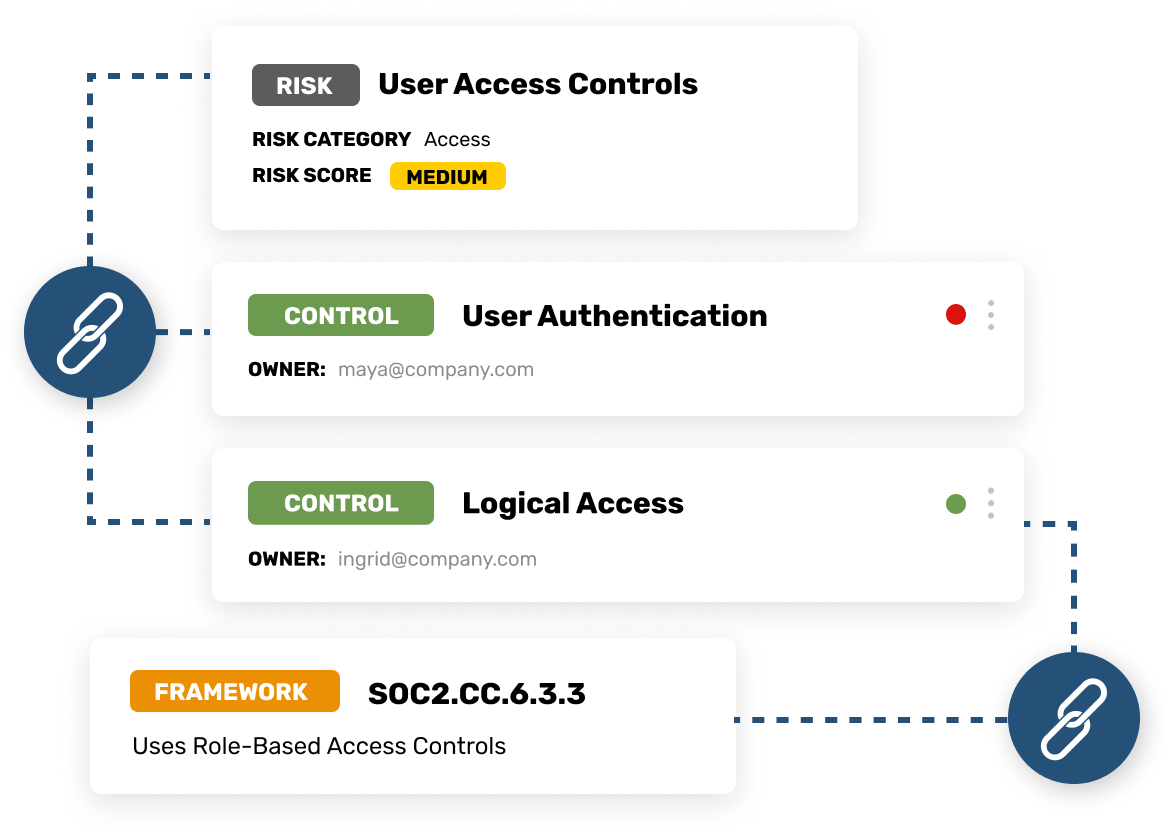 Packed with
useful features
In-house
penetration testing
Cross-framework
support
55+ policy templates
Easy integrations
Here's how it works.
Get SOC 2 compliance in three simple steps.
Step 1
Design
Choose and implement (or customize) SOC 2-specific controls from our extensive library of audit-ready options.
Step 2
Operate
Assign responsibility for risks, controls, and evidence across your whole team, then monitor progress via the compliance dashboard.
Step 3
Certify
Strike Graph's assessment team uses tech-enabled methods to quickly and objectively test your security program's adherence to the SOC 2 framework. Then, our independent CPA assesses the test results and attests that your company is SOC 2 compliant.
Join the hundreds of companies that rely on Strike Graph for SOC 2 compliance.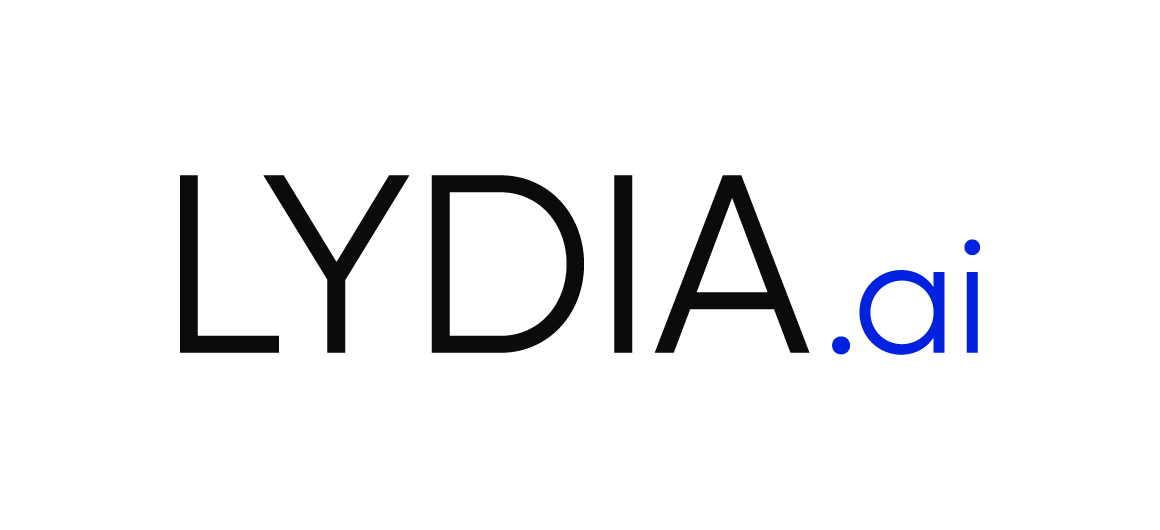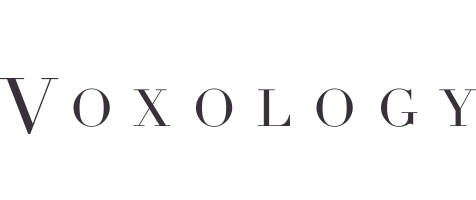 Dig into the details.
Learn the difference between SOC 2 Type 1 and SOC 2 Type 2, how to build a SOC 2 controls list, which Trust Services Criteria are required, and more.
What is the SOC framework?
SOC stands for System and Organization Controls. In common usage, the term SOC 2 refers to a report issued by an independent Certified Public Accountant (CPA) stating that an organization's data management practices are meeting a set of criteria issued by the AICPA. A SOC 2 is one of the most common attestations that service organizations can obtain, and it is becoming a requirement for security-conscious enterprises that rely on cloud service providers.
What are Trust Services Criteria (TSC)?
The SOC framework is based on five main Trust Services Criteria (TSC):
Security — Also known as common criteria, a collection of both operational and security criteria
Availability — How the system stays up and running
Processing Integrity — How data is manipulated to produce the correct or expected result
Confidentiality — How data is kept secret
Privacy — How personal data is kept secret and protected
Unlike more prescriptive frameworks, such as PCI DSS and ISO 27001, SOC 2 allows organizations to identify relevant controls and show how they are meeting each criterion.

That said, nearly every SOC 2 must include the Security, or Common, TSC: control environment, communication and information, risk assessment, monitoring activities, control activities, logical and physical access controls, system operations, change management, and risk mitigation.

Strike Graph's platform covers 100 percent of the TSC to ensure you can achieve the scope of SOC 2 that your buyers require.
Does my company need a SOC 2?
Any technology service provider or organization that stores, processes, or transmits customer data can benefit from a SOC 2 attestation. This includes managed service providers, banking and financial services, software as a service (SaaS) providers, data centers, cloud storage providers, and any other company that stores or collects data.
Being SOC 2 compliant demonstrates to customers that your organization has adopted a robust security program to protect their customer data in the cloud. The SOC 2 report gives your company a competitive advantage, helping you win and close deals faster.
What's the difference between SOC 1, SOC 2 (Type 1 and Type 2), and SOC 3?
SOC 1
Addresses outsourced financial controls
SOC 2
One of the most common attestations that service organizations can obtain. It is becoming a requirement for security-conscious enterprises that rely on cloud service providers
Type 1
Requires an audit evaluating a particular point in time. The auditor will assess the design of your company's controls and decide whether they adequately cover the appropriate criteria
Type 2
Adds an additional audit to assess whether controls have been operating over a period of time
SOC 3
Public-facing SOC 2 report
Additional SOC 2 Resources
Check out more helpful guides from the Strike Graph team!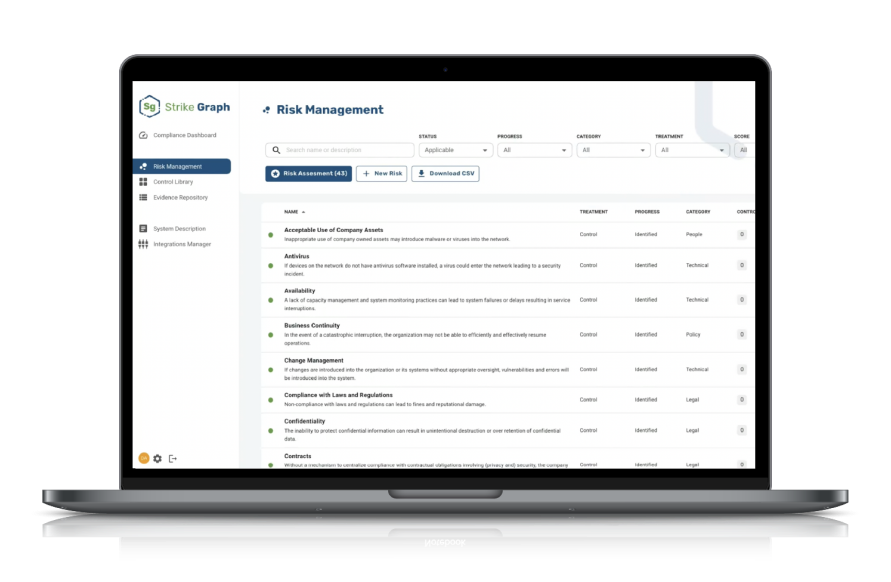 Still have questions?
We'd love to give you a test drive.
Schedule a demo and one of our knowledgeable team members will be happy to walk you through Strike Graph's SOC 2 compliance process.