Don't hire that auditing firm yet. There's a better way to get certified.
Traditional auditing firms overcharge you, keep you in the dark, and waste your valuable time. Download our free ebook to discover how technology is changing the certification process to be more affordable, transparent, and efficient.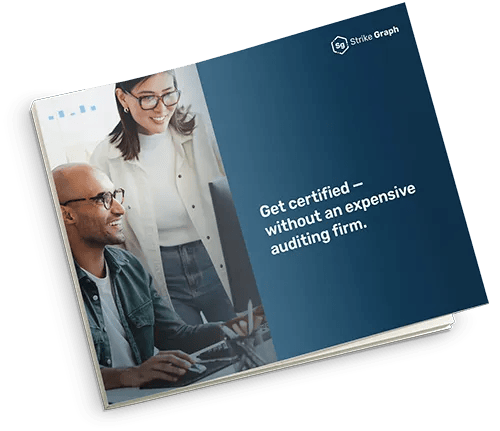 Learn how to get certified the smarter way.
Fill out the form and download your ebook today. Today's security audit is faster, easier, and puts you back in control.
In this free downloadable ebook, get all the information you need to make a smart decision on your security audit planning.
Technology has advanced. Audit firms haven't.
Discover how tech-enabled audit approaches have made traditional auditing techniques obsolete.
Traditional audit firms thrive by disempowering you.
Learn how to stay in the driver's seat throughout your audit.
Name recognition doesn't necessarily equal trust.
Understand which indicators — like transparency — are dependable signs of reliability.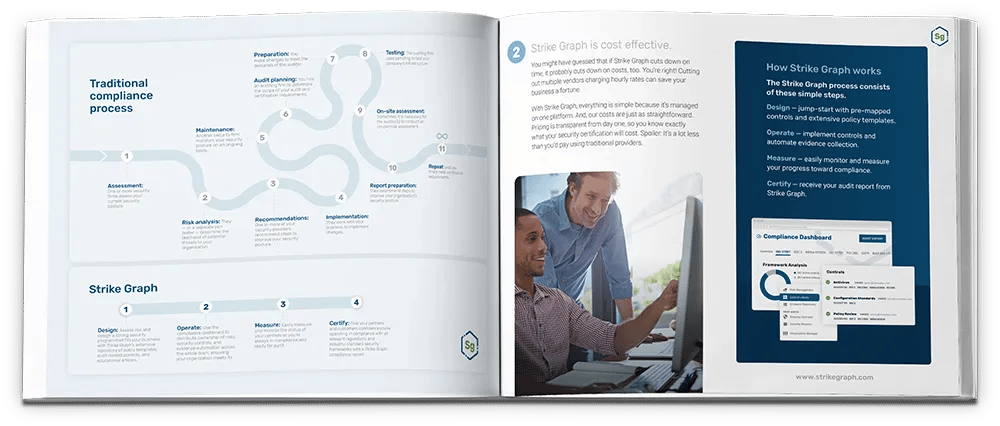 Make an informed audit decision.
In the past, there's been one path to certification — traditional audit firms. That's no longer the case. You have options, and being informed about the risks and benefits of different audit approaches means you'll make the best decision for your organization.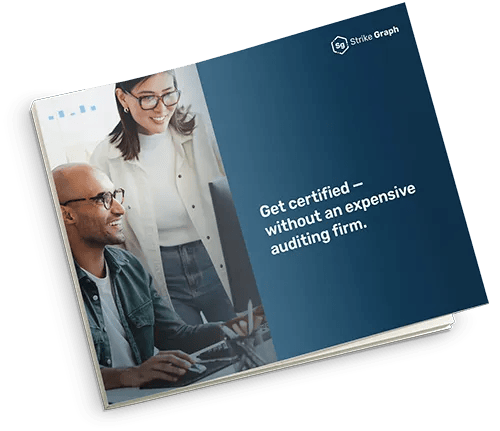 Strike Graph gets you certified fast.
Forget traditional auditing firms. Strike Graph takes you all the way to certification faster and more affordably than traditional solutions.
STEP 1
Design
Assess risk and design a strong security program that fits your business with Strike Graph's extensive repository of policy templates, audit-tested controls, and educational articles.
STEP 2
Operate
Use the compliance dashboard to distribute ownership of risks, security controls, and evidence automation across the whole team, ensuring your organization meets its security contributions efficiently and effectively.
STEP 3
Measure
Easily measure and monitor the status of your controls so you're always in compliance and ready for audit.
STEP 4
Certify
Give your partners and customers confidence you're operating in compliance with all relevant regulations and industry-standard security frameworks with a Strike Graph compliance report.
Security compliance without the headache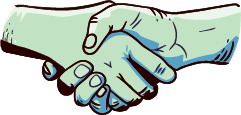 Audit-tested control library
Over 450 audit-tested controls to pull from make compliance fast and easy.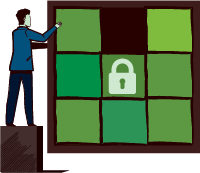 Risk assessment
The risk assessment guides you through 40 common risk profiles to assess vulnerability.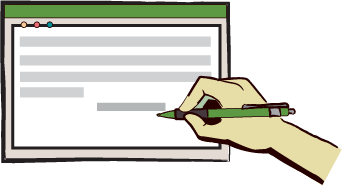 System description builder
Develop a certification-compliant security narrative with templated language ready at your fingertips.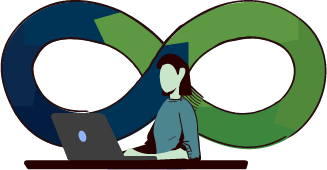 Evidence repository
Powerful evidence-collection automation gives your technology team the freedom to configure toward innovation. Workflow tools allow distributed responsibility for security ownership across your organization.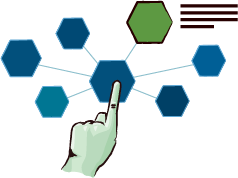 Compliance dashboard
Give leadership a bird's eye view of your compliance program and day-to-day users a ground-level overview of risks, controls, and evidence.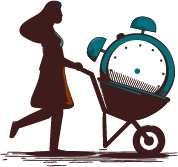 AI-powered security questionnaire tool
Our AI-powered response engine uses your existing controls to fill out security questionnaires automatically.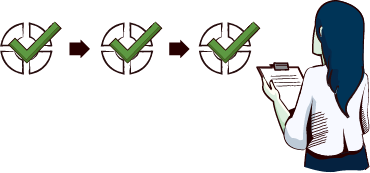 Penetration testing
Certified penetration testing, in line with your compliance roadmap, is another critical sales asset required by buyers. Strike Graph certified penetration testing ensures customers trust your company to protect their important data.
Trusted by hundreds of fast-growing companies
Keep up to date with Strike Graph.
Enter your email and we'll send you useful resources to help you on your compliance journey.