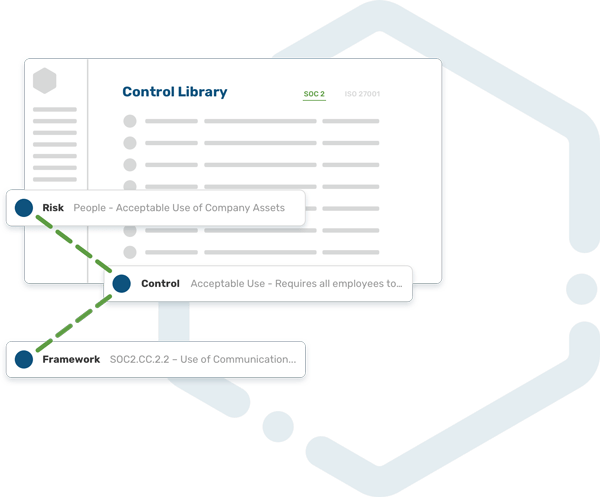 Join hundreds of companies that use Strike Graph to build trust.
Get certified in four simple steps.

Design
Assess risk and design a strong security program that fits your business with Strike Graph's extensive repository of policy templates, audit-tested controls, and educational articles.

Operate
Use the compliance dashboard to distribute ownership of risks, security controls, and evidence automation across the whole team, ensuring your organization meets its security contributions efficiently and effectively.

Measure
Easily measure and monitor the status of your controls so you're always in compliance and ready for audit.

Certify
Give your partners and customers confidence you're operating in compliance with all relevant regulations and industry-standard security frameworks with a Strike Graph compliance report. Compliance that scales with your business
Strike Graph makes it easy to get multiple certifications. No matter which stage your company is in, we have your security needs covered. Security certification software made easy
Work smarter, not harder.
Tailor the security process to your company's specific needs. Lighten the load by spreading responsibility across your whole team and implementing strategic automation and integrations.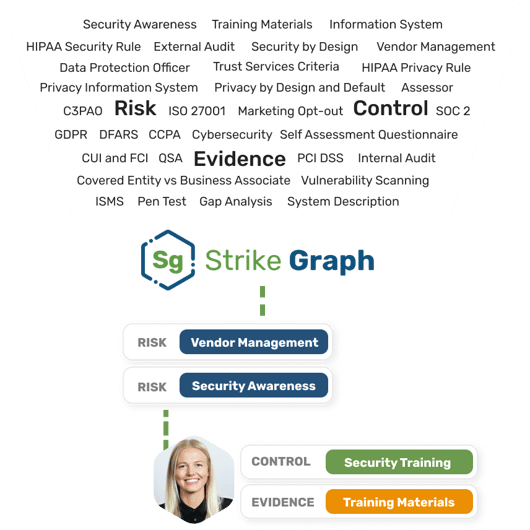 Sustain growth with multi-certification support.
Configure controls and evidence once, then use them for multiple certifications, unlocking fast, efficient expansion as your security needs grow.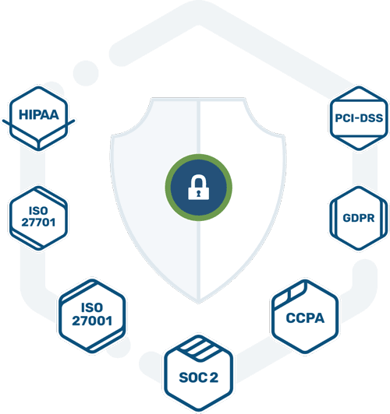 Build confidence with expert guidance.
Feel like a compliance expert with our user-friendly platform, template library, and extensive resource center.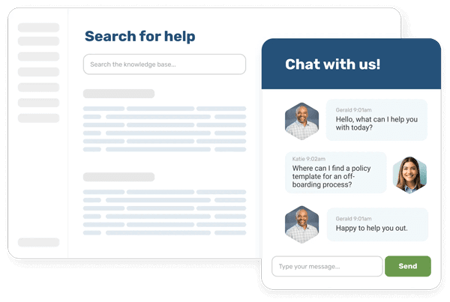 Security compliance without the headache
Risk assessment
The risk assessment guides you through 40 common risk profiles to assess vulnerability.

Audit-tested control library
Over 450 audit-tested controls to pull from make compliance fast and easy.

AI-powered security questionnaire tool
Our AI-powered response engine uses your existing controls to fill out security questionnaires automatically.

System description builder
Develop a certification-compliant security narrative with templated language ready at your fingertips.

Compliance dashboard
Give leadership a bird's eye view of your compliance program and day-to-day users a ground-level overview of risks, controls, and evidence.

Evidence repository
Powerful evidence-collection automation gives your technology team the freedom to configure toward innovation. Workflow tools allow distributed responsibility for security ownership across your organization.

Penetration testing
Certified penetration testing, in line with your compliance roadmap, is another critical sales asset required by buyers. Strike Graph certified penetration testing ensures customers trust your company to protect their important data.
Resources to help you on your journey.
Check out more helpful resources from our cybersecurity and compliance experts!
Keep up to date with Strike Graph.
Enter your email and we'll send you useful resources to help you on your compliance journey.