Regulatory compliance is a company's adherence to state, federal, and international laws, regulations, guidelines, and specifications relevant to its business processes and operations.
In order to ensure continual regulatory compliance, many organizations employ regulatory compliance software. This allows businesses to not only effectively and efficiently implement control frameworks, but also continuously monitor them and make changes and updates when needed.
In this post, we'll take a look at some information you'll need in order to make an informed decision about which regulatory compliance software best suits your business. Let's get started.
How regulatory compliance software works
Regulatory compliance software provides organizations with a framework that helps them stay up to date with regulatory requirements and avoid compliance breaches. This helps businesses comply with regulations and manage them in a more efficient manner.
In other words, it helps simplify compliance. As you may be all too well aware of, compliance can be complex. The growing number of security frameworks and the need to track various regulations, processes, and types of protected data can feel overwhelming. Regulatory compliance software can empower you to simplify your journey by tailoring the compliance process to your unique business situation.
Here's how it works: A robust solution will integrate with your current systems — no additional hardware required. This will allow you to always access up-to-date regulatory content on top of your existing tools, adapt regulatory answers to your own risk level and business needs, and embed compliance into any tool, process, or team for fully compliant business growth.
Compliance software benefits
Ready for less hassle and cost? Then compliance software is for you. That's because it functions as a sort of automated project manager for your company's compliance program.
Compliance software gives leadership easy access to the status of ongoing security efforts and organizes compliance responsibilities that are spread across departments of a company (think task assignment and deadline reminders). You'll also be able to automate repetitive tasks like evidence collection, meaning your compliance efforts will be less of a draw on internal resources.
In addition, compliance software provides educational resources for those who don't have compliance experience. Case in point: Strike Graph's library of policy templates and audit-tested controls means you don't have to start your documentation from scratch. Use the templates and controls as is, or customize them to fit your unique needs to make compliance fast and easy.
On top of all this, your company will also enjoy the broader benefits of security compliance. These include:
Revenue boost: Demonstrating security compliance is easy when using regulatory compliance software, and being compliant can dramatically improve revenue for companies

by reducing the financial and reputational risks of breaches and increasing access to high-value deals.

Customer trust: You'll increase customer trust by signaling that your organization is committed to protecting customer data, which builds satisfaction, loyalty, and retention.
Partner trust: Similar to customer trust, the steps your company takes to become and stay compliant will also reassure your partners that their company's information is safe and secure in your hands.
Avoidance of breaches and fines: When companies are required by law to follow security frameworks, the financial ramifications for violating these rules can be great. One of the top benefits of maintaining cybersecurity compliance is the reduced risk of a data breach

and the avoidance of heavy fines for such violations.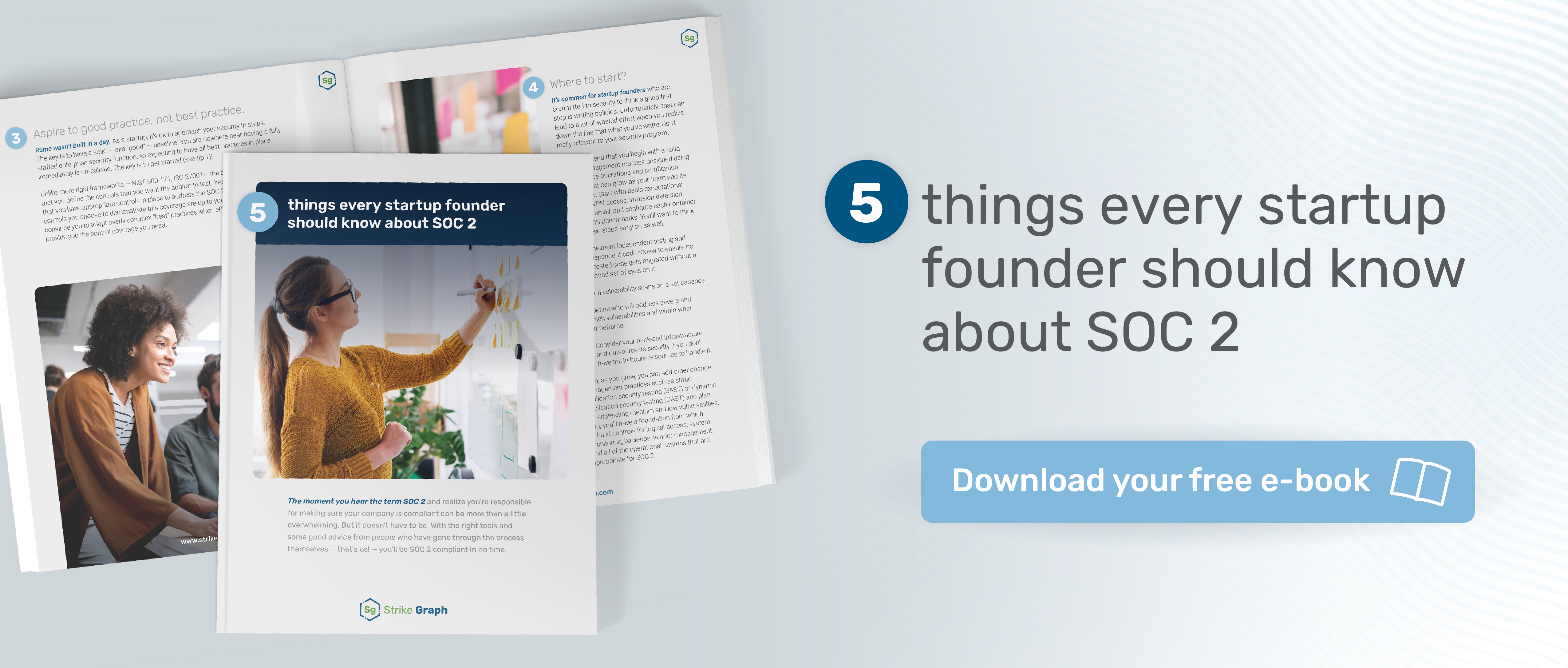 Must-have regulatory compliance software features
Here are a few of the most important features the software solution you choose should have.
Adaptability
Robust regulatory compliance software should be adaptable. In other words, it should be flexible enough to harmonize with your existing security structures in order to enable a fast and effective flow of information and expedited compliance.
Distributed responsibility
The ability to distribute responsibility for compliance across an entire organization spreads the load so no one team is burdened with the entire weight of security compliance. And, involving your whole team builds a strong culture of compliance.
Scalability
The right solution will not only be highly configurable, but scalable — so it can grow with your organization as your company grows and requires additional security certifications.
Visibility
Keep your eye on the ball by choosing regulatory compliance software that gives leadership a top-level view of progress and also empowers day-to-day users with more granular information on the status of risks, controls, and evidence.
Accessibility
Look for a solution that makes the process easy for those without prior security compliance experience. Resource libraries, automated evidence collection, and task assignment with notifications are great features to look for.
Strike Graph is more than traditional regulatory compliance software
Traditional regulatory compliance software is a huge time and cost saver. Strike Graph offers all that and then takes it a step further. Our compliance operations and certification platform empowers companies to design, operate, and certify their compliance programs affordably and efficiently — without the need for a big auditing firm. Our solution takes you from step one to certified, at a fraction of the cost of traditional security compliance approaches.
And because Strike Graph supports multiple certifications, the work you do today will help you pursue other certifications in the future.