Don't risk a data breach — and penalties.
When time and resources are thin, requirements like PCI DSS can fall through the cracks, leaving your customer data unprotected. When a data breach happens (and it will), customers lose trust, and your company may be fined penalties as high as $500,000 per incident.

Traditional PCI DSS assessments
Manually completing the PCI DSS Self-Assessment Questionnaire (SAQ) every single year can leave you feeling like it's groundhog day.

Strike Graph
You complete a risk assessment in the Strike Graph platform once, and we leverage it for future PCI DSS assessments and other cybersecurity certifications. Strike Graph makes PCI DSS certification easier each year.
No more guesswork
Tired of trying to decipher a mysterious questionnaire? Our PCI DSS gap assessment lets you know exactly which actions your company needs to take to get and remain in PCI DSS compliance.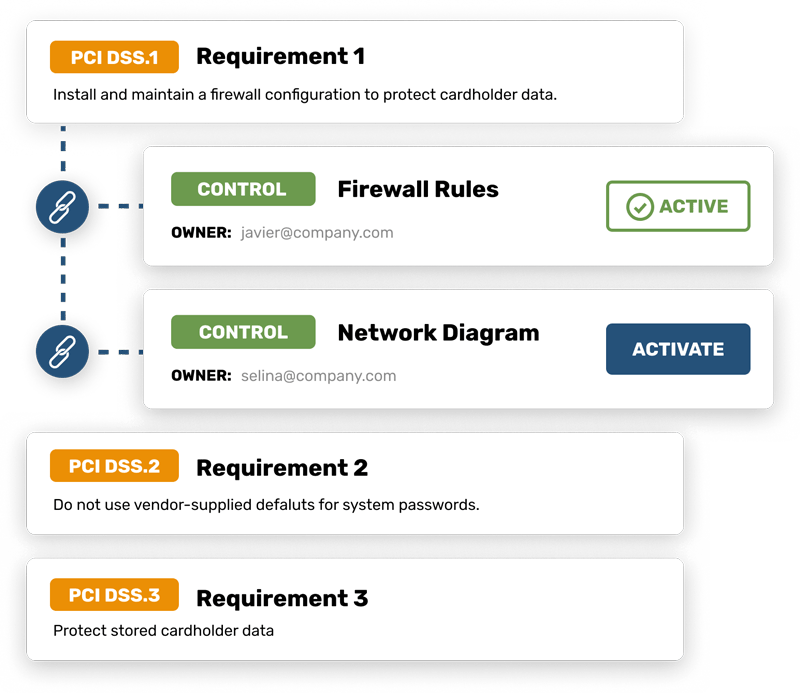 Everything you need in one place
From connecting you with a PCI Approved Scanning Vendor to arranging for a full audit, Strike Graph does the PCI DSS certification legwork so you can focus on growing your business.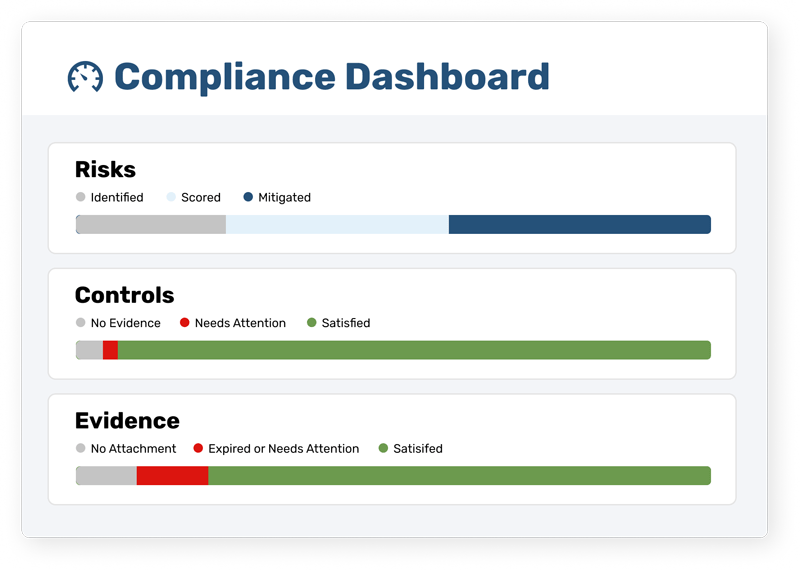 Smarter, not harder
As your business grows, your cybersecurity needs will grow with it. Strike Graph allows you to enter controls and evidence once and then use them for multiple certifications, saving time and money.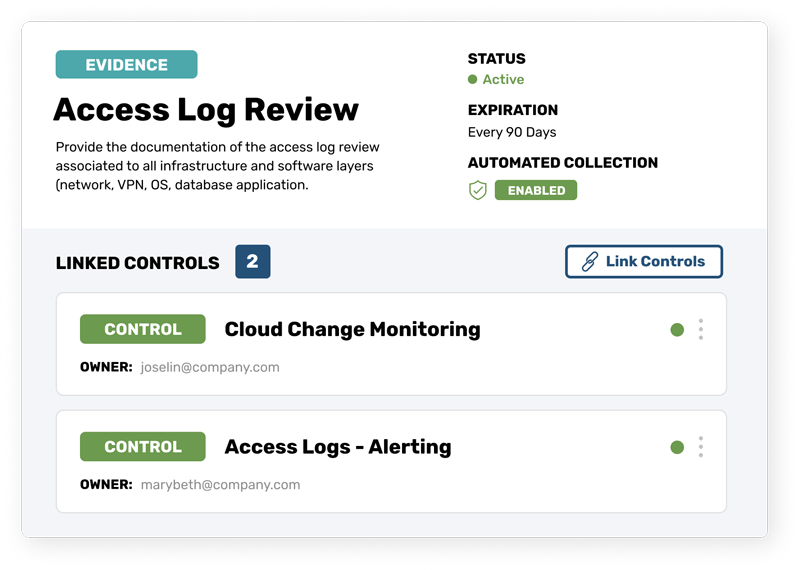 Packed with
useful features

In-house
penetration testing

Security
questionnaire tool

55+ policy templates

Easy integrations
Here's how it works.
Strike Graph's PCI DSS certification process is simple.
Step 1
Identify your existing PCI DSS cybersecurity controls with our risk assessment tool.
Strike Graph will use this information to simplify your Self Assessment Questionnaire process.
Step 2
Strike Graph provides a gap assessment.
We'll include a clear outline of the controls you need to add for PCI DSS compliance as well as relevant templates and guides to make the process stress free.
Step 3
If needed, we'll arrange an audit.
We have relationships with PCI Qualified Security Assessors (QSAs) and Approved Scanning Vendors (ASVs), so the process is seamless.
Step 4
Get your PCI DSS certification.
Strike Graph outputs everything you will need to present to your QSA in an easy-to-use package.
Strike Graph is trusted by hundreds of companies for PCI DSS compliance.










Dig into the details.
Everything you need to know about the PCI DSS compliance and certification process
What is PCI DSS?
PCI DSS stands for the Payment Card Industry Data Security Standard. This information security standard was created to secure credit card and debit card transactions against fraud and data theft by increasing cardholder data controls.
The PCI DSS is administered by the Payment Card Industry Security Standards Council.
Who needs to comply with PCI DSS?
If you are a merchant who accepts or processes payment cards, you must comply with PCI DSS. That's because this standard applies to all entities that store, process, and/or transmit cardholder data. PCI DSS also applies for technical and operational system components included in or connected to cardholder data.
What are the PCI DSS requirements?
All companies that accept or process debit or credit card transactions must meet 12 requirements for handling cardholder data and maintaining a secure network as outlined by the PCI Security Standards Council (PCI SSC):
Build and maintain a secure network

1. Install and maintain a firewall configuration to protect cardholder data

2. Do not use vendor-supplied defaults for system passwords and other security parameters

Protect cardholder data

3. Protect stored cardholder data

4. Encrypt transmission of cardholder data across open, public networks

Maintain a vulnerability management program

5. Use and regularly update anti-virus software or programs

6. Develop and maintain secure systems and applications

Implement strong access control measures

7. Restrict access to cardholder data by business need-to-know

8. Assign a unique ID to each person with computer access

9. Restrict physical access to cardholder data

Regularly monitor and test networks

10. Track and monitor all access to network resources and cardholder data

11. Regularly test security systems and processes

Maintain an information security policy

12. Maintain a policy that addresses information security for employees and contractors

Source: https://www.pcisecuritystandards.org/pci_security/maintaining_payment_security
How do I get PCI DSS certification?
How a company verifies that they are complying with PCI DSS requirements varies based on the number of credit or debit card transactions the company processes annually. Companies are split into four levels based on their transaction volume:

Level 1: More than 6 million real-world credit or debit card transactions annually.
Level 2: Between 1 and 6 million real-world credit or debit card transactions annually.
Level 3: Between 20,000 and 1 million e-commerce transactions annually.
Level 4: Fewer than 20,000 e-commerce transactions annually.

Level 1 organizations must undergo an annual internal audit conducted by a Qualified Security Assessor (QSA) and submit to a PCI scan by an Approved Scanning Vendor (ASV) quarterly.

Levels 2, 3, and 4 organizations are only required to complete an annual assessment using a Self-Assessment Questionnaire (SAQ) but may also require a quarterly PCI scan.
Additional PCI DSS resources
Check out more helpful guides from the Strike Graph team!
Still have questions? Let us show you around!
Schedule a demo and one of our experts will show you exactly how our PCI DSS certification process works.