Are you searching for an efficient way to complete security questionnaires so that you can move along quickly and make that sale? Wouldn't it be nice if there was an easy button to expedite these painful and time consuming exercises?
Completing security questionnaires can feel like a never ending cycle. Just when you finish one, another comes down the pike. The questions look similar, but are nuanced enough that you find you have to spend an equal amount of time slogging through each questionnaire. Wouldn't it be nice if the hard work you put into for your SOC 2 could be leveraged to respond to the questionnaires?
---
Learn why Strike Graph customers love our AI security questionnaire tool. Schedule a demo today.
---
Having a SOC 2 report or an ISO 27001 certification will not entirely curtail the need to complete security questionnaires and vendor assessments. These infernal forms are a fact of life for companies of all sizes. If the sales team is filling these out, they may be completing these in a vacuum — not realizing that the control landscape has changed since the last time a questionnaire was completed. If the tech team is filling these out, they grumble that they have better things to do and ask why the same questions get repeated over and over again.
Free up the CTO's time! Leave completion of security questionnaires in good hands.
We have completed many questionnaires in our lifetime and can empathize with the pain. That is why we decided to tackle this pain point with a machine learning (ML) solution to security questionnaires. We wanted to solve a common problem: how can you use an existing control set to efficiently and accurately respond to security questionnaires? Wouldn't it be nice to leverage your active internal control program to respond consistently to each questionnaire? Wouldn't it be nice to have confidence that the sales team is responding accurately?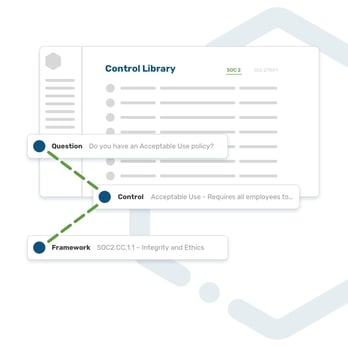 The Strike Graph solution uses predictive modeling to respond to each questionnaire item using the most appropriate control in your active control library. If you have used our product for SOC 2 or ISO 27001 readiness, an existing control will likely map to one of the security questions.
After submitting your report (we support Excel, Word, .csv, or .pdf) to Strike Graph, we provide you with a report showing the most relevant active control (or controls) that address the specific area of each question within 48 hours. You can then complete the original questionnaire with confidence.
By leveraging your existing internal controls to respond to security questionnaires, you not only respond to questionnaires with confidence, but you also maximize the ROI from your SOC 2 or ISO 27000 efforts.